Representation of Women in Ophthalmology Subspecialty Societies over 20 Years
March 2022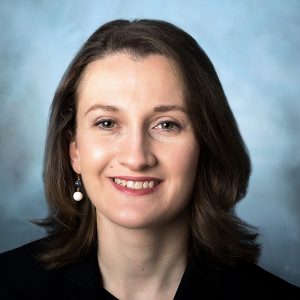 Written by: Katherine E. Talcott, MD
Cole Eye Institute
Cleveland Clinic
Azad AD, Chandramohan A, Li AS, Rosenblatt TR, Reeves M-GR, Pasricha MV, Ludwig CA, Nguyen A, Winges KM, Wang SY, Pan CK, Moss HE, Do DV, Fountain TR, Kossler AL, Representation of Women in Ophthalmology Subspecialty Societies over 20 Years, Ophthalmology (2022), doi: https://doi.org/10.1016/j.ophtha.2021.12.011 .
While women are entering ophthalmology at increasing rates, they are still underrepresented in leadership positions within ophthalmology. In particular, leadership within professional societies is important for career development, including garnering a reputation, presenting at conferences or receiving promotions. This study by Azad et al aimed to characterize gender representation and achievement within ophthalmology subspecialty societies over a twenty-year period.
This study by Azad et al is a retrospective study examining data from six major ophthalmologic subspecialty societies: the American Society of Ophthalmic Plastic and Reconstructive Surgeons (ASOPRS), the American Association of Pediatric Ophthalmology and Strabismus (AAPOS), the American Society of Cataract and Refractive Surgery (ASCRS), the American Glaucoma Society (AGS), the North American Neuro-Ophthalmology Society (NANOS), and the American Society of Retina Specialists (ASRS), from 2000 to 2020. They examined the percentage of women as new members, societal award winners, executive committee/board of directors' members, and presidents. In addition to these primary outcomes, they looked at total membership and the proportional representation of men and women at each benchmark.
Overall, total membership parity was achieved within AAPOS (52% women and 48% men; p=0.087) but NANOS (37% versus 63%), ASCRS (25% versus 75%), and ASOPRS (22% versus 78%; all p<0.001) demonstrated gender disparity. However, the overall percent of women as new members increased from 42% to 54% (p<0.001). The percentage of women as award winners increased from 20% to 28% (p=0.008), but women still won significantly fewer awards in each society (all p<0.03). Additionally, there was a significant increase in the percent of women in executive committee positions (15% to 22%, p=0.008), likely driven by changes in ASOPRS and ASRS. The percent of women as society presidents stayed stable at 20% (p=0.961).
The authors conclude that although progress has been made toward gender parity, there are still areas of residual disparity in subspecialty ophthalmologic societies and opportunities to attain proportional representation in benchmarks for both genders. This article tries to further evaluate the bottleneck effect of achievements of women in the upper echelon of ophthalmology. One issue that it uncovers is a lack of transparency—several organizations, including ASRS and AGS, do not release total membership data by gender. Additionally, this work raises questions regarding what underlies these disparities, in particular if gender bias plays a role, and what interventions may help bridge the gender gap.